Upgrading Your Home: Building Pergolas, Carports, Decking, and Verandahs in Clyde
If you have been looking to expand the functional areas of your home for both leisure and entertainment, consider expanding outward, instead of going up.
With more options on the market than ever before to add to the value of your house, we believe that the great outdoors is one of your most investment-worthy spaces and that it should be given consideration. From pergolas to verandahs, wrap-around decking, and more, each of these builds can be catered to your family's likely use—or personal taste!
Need to learn more about each option before diving into grand plans? Check out some of the features and benefits of the following outdoor projects our team has recently completed in Clyde. From increased entertainment options to creating a defined area for relaxing out in nature, after considering your options for expanding outside—we think that you'll be glad you did.
Pergolas: Aesthetic Meets Functional Design
Often seen in publicly designed parks, gardens, and pathways, pergolas are stunning, often timber-built structures that provide shade, landscaping opportunities, and privacy.
If you've been considering allocating a hidden patch of your property to hang out, enjoy nature, or simply have added protection from the sun when reading your favourite book, a pergola is a stunning way to do it.
Verandahs: Increasing the Welcome Factor to Your Home
Want to add an extra warmth factor to your home? Verandahs are often associated with the 'traditional family dwelling'—a welcoming space that greets friends, family, and loved ones inside.
With the opportunity to block harsh UV rays from your front entryway and windows, as well as offer a frame and structure to your curb-side appeal, a simple verandah can be a resting place before stepping inside or a full-scale front porch. Looking for another spot to relax and watch the world pass by? This might be the perfect build to do it.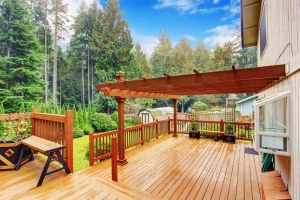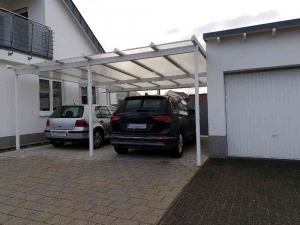 Timber Decking: Expanding Your Space from the Inside, Out
Warm, functional, and able to be personalised with a customised design, few things say 'welcome home' like a great timber deck. By adding value to your house with additional options for dining, relaxing, and entertaining, raised deck builds can add another level to your square footage—without sacrificing valuable green lawn.
Looking to invest less in lawn maintenance and care? Consider having your decking built at ground level—you can still reap the benefits of great landscaping and a simple garden design without having to look after a full property going forward.
Carports: A Great Extension with Plenty of Use
If you need more covered areas or added protection from the elements, a carport is a simple build that can give you the storage and coverage you need. Without being a fully enclosed garage, carports are easy to access—so if you choose to store firewood, patio furniture—even the barbecue!—in this covered space, you'll have protection from the rain without the hassle of sliding doors.
A great option for motorbike riders or those who invest in their cars and want to add protection from elemental wear and tear, a carport can add to your value and functionality without investing in a full new build.
Addon Pergolas: Clyde's Favourite Outdoor Construction Team
If you're looking to increase the aesthetic, functionality, and value of your home, pergolas, carports, and decking may be the easiest entry point for your family.
Instead of increasing your interior area alone, consider investing in outdoor assets to create a seamless experience between living, relaxing, and entertaining both inside and out. Want to learn more about the design and construction process? Feel free to reach out to our team to discuss potential plans for your property—we would be happy to discuss the process and how we can streamline it for you today.